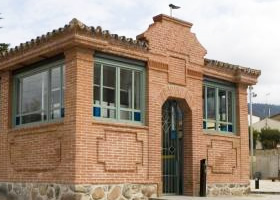 The Visitor Centre in La Garriga, a cross between a tourist information centre and an interpretation centre, is the gateway to the town. Anyone wishing to discover La Garriga must pass through here first.
The Visitor Centre is the best place to get to know the town's heritage and history. It includes an exhibition about the evolution of the town from the Roman period until the present day. You can also find information about the various walking routes which will allow you to delve deeper into the town's secrets.
The amenities include numerous interactive resources to bring you closer to La Garriga's cultural heritage in an educational and fun way. The centre, which is free of charge, also offers two audiovisual presentations.
In addition, the Visitor Centre provides information about all of the town's tourist attractions and services and also houses a souvenir shop.
All in all, the centre offers visitors to La Garriga a sample of the rich heritage which makes the town one great open-air museum that never ceases to captivate.
PLEASE PAY US A VISIT!
By car
• Visitors to La Garriga by car usually arrive via the C17, the dual carriageway which runs from Vic to Barcelona.
• Entering La Garriga on the C17 from the north brings you directly onto the former N152a. Just keep heading south along this road and you will get to the Visitor Centre.
• Entering La Garriga on the C17 from the south brings you right into the town centre along the Carretera de l'Ametlla. When you reach the first set of traffic lights, turn left and follow the former N152a (named Carretera Nova) for about 300 metres and you will come directly to the Visitor Centre.
• Map of the access route from the C17. Right next to the Visitor Centre you can find two free public car parks: La Sinia and Les Roques.
By train
La Garriga railway station lies on line R3 of the Barcelona suburban rail network.
• To get from the railway station to the Visitor Centre, you just need to follow Carrer del Figueral to the end and into Carretera Nova. The Visitor Centre is 50 metres to the right.
• Train timetables for the Barcelona commuter rail service
By bus
• Various bus routes link Barcelona, Granollers, La Garriga and Vic. In La Garriga there are several bus stops, one of which is right outside the La Sínia public car park, 200 metres from the Visitor Centre.
• Bus timetable
By bicycle
The Visitor Centre stands on the  La Garriga cycle path which passes through the town from north to south. This cycle path joins the section from Llerona and Les Franqueses, and  following the  signposted route you can continue right down to the beach at Sant Adrià del Besòs.