THE SITE OF LA DOMA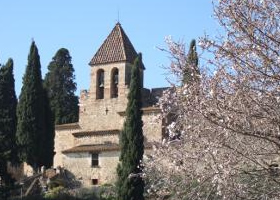 The name La Doma is given to the group of buildings which includes the ancient / former parish church, the accompanying ecclesiastical buildings and the old cemetery.
The church began life in the 10th century. However, the oldest part of the current building is the central nave, which is Romanesque and was build in the 12th century.  The church's present-day appearance dates from the 16th century, when the aisle, the main entrance, the end chapel, the sacristy, the bell tower , the exconjuratory and the choir stalls  were all built.
The interior of La Doma boasts a magnificent Gothic altarpiece of Saint Stephen. It is the most significant art work housed in the La Doma group of buildings and dates from the 15th century.
The surrounding area of the church has always been used as a cemetery. You can find several interesting architectural works and sculptures, and eminent figures such as Manuel J Raspall are buried there.
Walking routes
The Roman villa houses an interpretation centre and lies on the De l'Antiguitat a l'Edat Miitjana ("From Ancient Times to the Middle Ages") walking route. You can view the route here: "From Ancient to the Middle Age"
You can actively participate in the activities organized in the Doma (see calendar of events):
- Guided Itinerary: La Doma. medieval treasure Garriga (Catalan language)
- Dramatized visit: "The Archive of Stone" (language: Catalan)