NATURE AND RURAL LIFE IN LA GARRIGA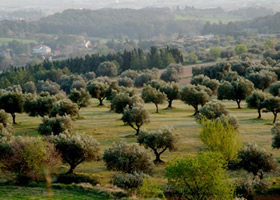 La Garriga is surrounded on all sides by nature and diverse landscapes. From the extensive irrigated areas of the Llerona Plane, through the mosaic of fields and woodland areas stretching eastwards to Samalùs and westwards to l'Ametlla, through the mountain slopes of Puiggraciós, the Cingles de Berti and the Montseny to the north to the riverside landscape of the River Congost which passes through the town.
These are beautiful surroundings which can be discovered on foot by following some of the walking routes designed to rediscover rural La Garriga. You can either follow some of the signposted paths for a couple of hours or take a longer walk such as the Petit Recorregut Garrigguenc ("The little La Garriga tour").
Virtual Walks
"Serreta Vinyes- La Doma" (mountain's vineyard)
"Serreta Vinyes- Les Roques"(mountain's vineyard)
Walking routes
You can view the "L'aiga i el regadiu" ("Water and the waterlands") route here
You can view the "Els espais de secà" ("The drylands")  route here
You can view the "Senders de natura" ("Nature trails") here and the Map of La Garriga
Visit the website for the "Parc Natural del Montseny" ("Montseny Natural Park")
Guided tours: "The origins of the Garriga through their natural"
The last Sunday of the month we organize guided tours of shared history and nature of Garriga. Know la Garriga, its history, through its natural spaces. Join us? Check our calendar of events!