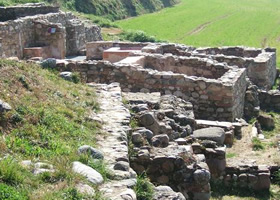 The Roman villa at Can Terrers, declared a  Cultural  asset of national interest' is a visual    symbol of Roman  power of 2000 years ago in  La Garriga.
 You can wander freely around the hot baths  and  rooms where their Roman owners  walked two  millennia ago, and learn many  things about one of the  most important Roman settlements in Catalonia. Did  you know that the wine that was produced in Can Terrers was drunk as far away as Italy, Egypt and Greece?
Itineraries
The Roman Villa has an estation for interpretation and includes in itinerarie "From Ancient time to The Middle Age".
See "From Ancient Time to The Middle Age"
Video
Video from Historical Documentation Center la Garriga (CDH): "The Roman Villa at can Terrers"