THE ROCA CENTELLA WALKING ROUTE
Time: 1 hour 50 mins
Duration: 18.60km18.60km
Difference between lowest and highest point: 761m
Difficulty: high
Mountain bike path
Possibility to go on foot taking shortcuts marked from Carrer Cardedeu.
Leave La Garriga heading in the direction of Figaró until you almost reach the C17. At the roundabout look for the path which goes off to the right between the factories towards Sant Cristòfol de Monteugues chapel. When you reach the chapel, turn right and head down past Can Valls until you come to a large oak tree. Keep going and turn right at each of the next two crossroads. At this point the path dips steeply until you reach the third crossroads where you turn left. This path leads to a small leveled area from where you can walk up to the peak of Roca Centella. On the return journey you can head down Carpis hill towards the la casa de Prades near Santa Margarida hill, always keeping to the right for a smoother descent. You come into La Garriga via Can Poi.
Map of the walking route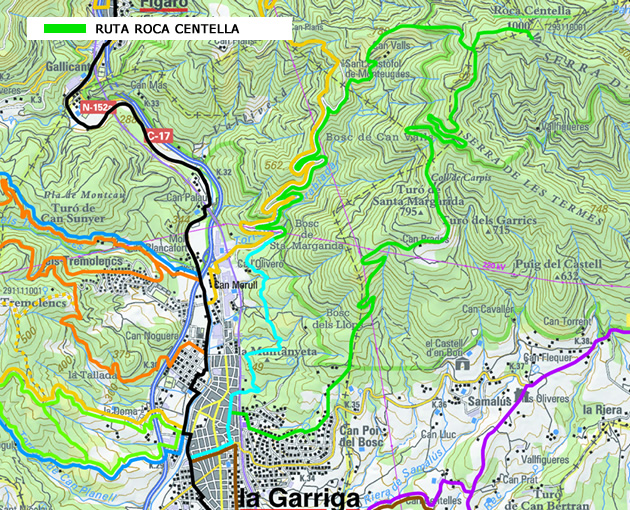 More information
See Rural and Natural la Garriga
See Alpina Maps