THE OLD TOWN OF LA GARRIGA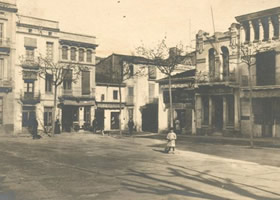 La Garriga grew around the medieval royal road which joined Barcelona and Vic and which became the main thoroughfare of the village. As it grew, a nucleus formed which today centres around two squares, dominated respectively by the church and Can Dachs.
Today, these two squares and the street which joins them are pedestrianized and thus make an ideal place to stroll, shop and take refreshment... and of course to enjoy some of the key features of La Garriga's heritage: medieval country houses, Modernist an Noucentista houses and also Saint Stephen's church.
Virtual walks
Walking routes
Various routes pass through the old town:
You can view the "La Garriga medieval i moderna" ("Medieval and modernist La Garriga") route here
You can view the "Vil•la termal i d'estiueig" ("Summer resort and spa") route here
You can view the "Patrimoni I memòria" ("Heritage and Memory") route here
You can view the "La Garriga secreta" ("Secret La Garriga") route here