THE ILLA RASPALL MODERNIST ENSEMBLE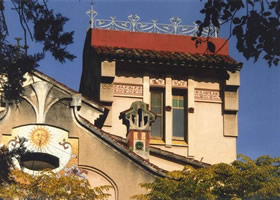 The Illa Raspall (literally, 'Raspall Island') is the most important ensemble of Modernist buildings in La Garriga and is unique to Catalonia. It is protected as a Cultural asset of national interest'.
It consists of a collection of four houses – la casa Barbey, la Torre Iris, la Bombonera and la casa Barraquer – situated at the beginning of el Passeig and built by Manuel J Raspall between 110 and 1913. The Illa Raspall illustrates the artistic and monumental importance of the architect and showcases the intense changes inflicted on La Garriga 100 years ago.
In the Plaça del Silenci you can find a small interpretation centre about the Illa Raspall. Afterwards, walking through the'island' or taking part in one of the available guided tours, you can discover an entire world full of detail and hidden tales for yourself.
Walking routes
The Illa Raspall forms part of the Vila termal I d'estiueg  ('Summer resort and spa') walking route.
See here the route:  "Summer Resort and Spa (Raspall Route)"