THE CASTANYER D'EN CUCH WALKING ROUTE
Time: 2 hours and 47 minuts aprox
Duration: 36km
Difference between lowest and highest point: 1231m
Difficulty: Average / high
Mountain bike path
Leave La Garriga by the Malhivern forest at the end of El Passeig. Cross over the road and continue along the wide lane, making sure you turn left at the crossroads just after the woods. Walk past the farms and keep heading in the direction of Corró to Cànoves and then start climbing towards Vallforners reservoir, where you'll find a crossroards where the path is signposted to the right. Follow the signs to Castanyer d'en Cuch.
Here you can take a short break. Nearby, about 500 metres further up, you can find La Casa del Bosc.
Head back down the Castanyer path until you get back to the reservoir, where you can take the other path and continue the climb to the crossroads that goes over the stream. Just after you've crossed the stream take the path which veers off to the left. This will take you round the reservoir before widening out and forking; take the right fork and go up a series of short slopes which lead to another pass which crosses the one you are on. Turn left here and  it will take you onto the main road.
Walk along the road for a while until you get to the school crossing at Samalús. Turn left here and go straight on until you see a dirt track heading steeply downhill. This leads once again to the Malhivern forest which reaches back to La Garriga.
Map of the walking route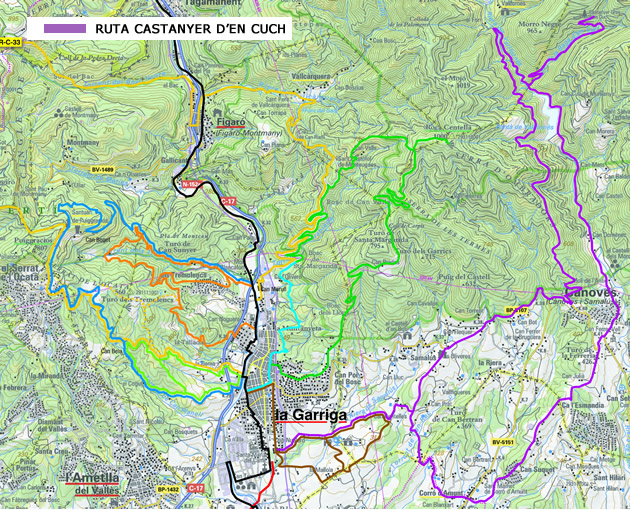 More information
See Rural and Natural la Garriga
See Alpina Maps