THE MODERNIST CONSTRUCTION OF CAN RASPALL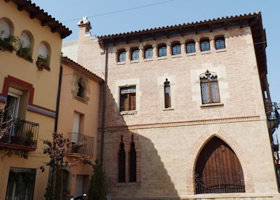 The Can Raspall building is a magnificent modernist construction and the earliest work of the architect Manuel J Raspall. It began life as a medieval house, the birthplace of the architect's mother, which Raspall transformed into what it is now.
Today it open to the public; you can visit the ground floor with its splendid lounge which houses a  permanent exhibition titled "Manuel J Raspall and Modernism: portraying La Garriga". It is joined to the neighbouring building, Can Mayol, a Noucentista work by the same architect.
The opening times are from Monday to Friday from 9.00 to 15.00, and also from Monday to Thursday from 16.00 to 20.00.
Walking routes
Can Raspall is included on two walking routes. The guided tour of the interior forms part of the "Vil•la termal i d'estiueig" ("Summer resort and spa") route on the second Saturday of every month.

You can view the "Vil•la termal i d'estiueig" ("Summer resort and spa") route here
You can view the "Patrimoni I memòria" ("Heritage and Memory") route here